In the European Diversity Month promoted by the European Union, Automobili Lamborghini confirms and renews its commitment to diversity, equality and inclusion. For years, the Sant'Agata Bolognese Company has carried out a series of innovative programs with the aim of creating an increasingly inclusive corporate culture, which is focused on reconciling the search for individual meaning with the broader search for collective meaning, contributing to the generation and sharing of value through an ethical and sustainable approach to business.
Umberto Tossini, Chief Human Capital Officer of Automobili Lamborghini, stated: "We stand by the European Union in the fight against stereotypes and in the promotion of a culture that gives appropriate space to self-expression. Automobili Lamborghini has for years developed initiatives and programs that make the corporate culture increasingly inclusive, in full appreciation of the centrality of our people. A strategy that is based on the conviction that diversity is wealth, and that this wealth comes from the encounter between different perspectives and skills, capable of generating a unique value for the company and its people."
Gender diversity at Automobili Lamborghini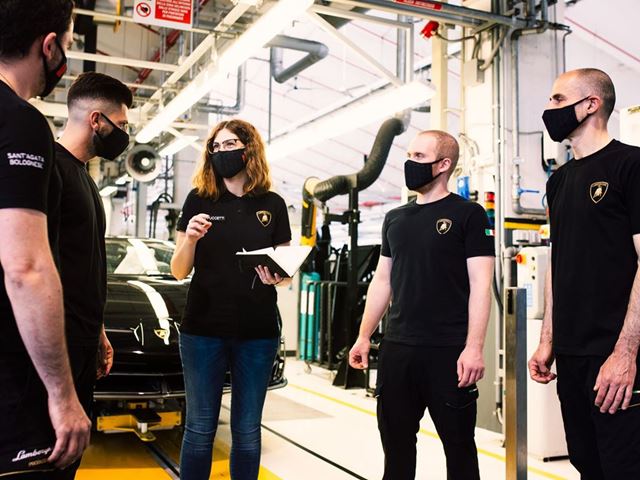 The House of Sant'Agata Bolognese has encouraged the increase of women employees over the years by hiring highly qualified female professionals, especially those with a background of studies in STEM fields. Many of these women hold significant leadership roles, heading up teams that are traditionally male-dominated. Since 2018, Lamborghini has also guaranteed equal pay between female and male employees with the same qualifications and duties.
Also in regard to gender diversity, Lamborghini belongs to the Capo D network, a community of businesses supporting equal opportunities promoted by the Metropolitan City of Bologna, which includes a number of large companies in the area. The aim of this network is to create a unified system among the member companies and pursue the strategic objectives of implementing company policies in support of equal opportunities, home-work balance and the fight against discrimination, engaging in local schools to combat gender stereotypes from an early age.
The photo shows Erika Puccetti, Aventador Assembly Line Forewoman, stated "Being a female department head in manufacturing is not easy, especially in a male-dominated team. It takes a lot more effort to be credible and have authority. There's a tendency to think that just because you're a woman you're not suited to understand certain technical aspects. I've always liked challenges! I'm happy that a company like Lamborghini has decided to invest in women in production; in my office, for example, there are two female and two male department heads. In addition, I consider myself very lucky because, despite being the first female head of department in the Aventador line, I found a team that supports me and helps me grow personally and professionally."
Parental equality: attention given to new moms and dads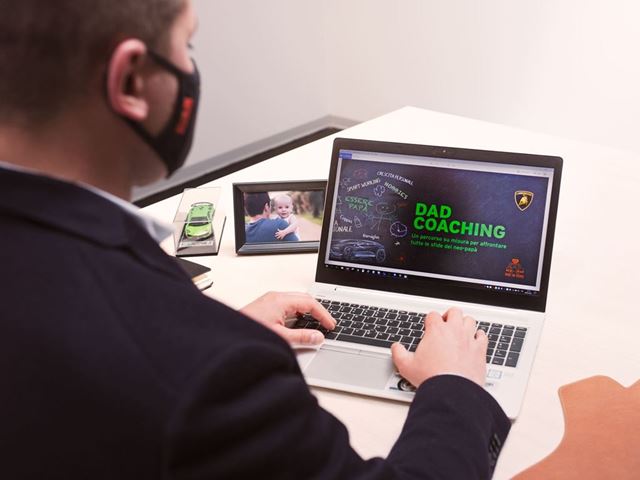 Automobili Lamborghini is extremely attentive to the issue of parenthood and offers an extensive program of initiatives. Protection starts with maternity leave: in Italy there is a mandatory five-month period of leave paid at 100% by the Social Security Institute and a subsequent optional 6-month period of leave paid at 30%. Lamborghini decided to work on this issue together with the trade union representatives and to encourage equal parenting by further increasing the economic integration to 30% for the first six months of optional leave, increasing to 40% on condition that the other parent has taken a period of at least fifteen continuous days of the same leave. New mothers returning to work are offered mum coaching, special agreements with daycare centers and summer programs, and paid leave. To promote a culture of equality within the family as well, Lamborghini developed a unique project: dad coaching. The initiative, on a voluntary basis, aims to support new fathers during this experience of being a parent, which is unique but also complex, through a series of individual sessions with a professional coach. The course aims to enhance the figure of the new father in such an important and new moment in the life of the family. Through dialogue and reflection, the focus is on the inner aspect of the person with the exploration of his needs and then behaviors, arising from emotions that are often hidden or unidentified. The course, which is voluntary and not conditioned by company needs, is divided into four or six basic one-hour sessions during working hours.
One participant was new dad Nicola Giganti, Carbon Fibre, Moulds&Repair Foreman, who told us: "Sometimes it's hard to reconcile private life and work, but it's necessary to give the right priority to things, always working on both fronts. In the Dad Coaching service, I found a great opportunity for support, and I´m gradually learning to better understand and interpret the needs and behaviors of my child and to be more patient."
Generational diversity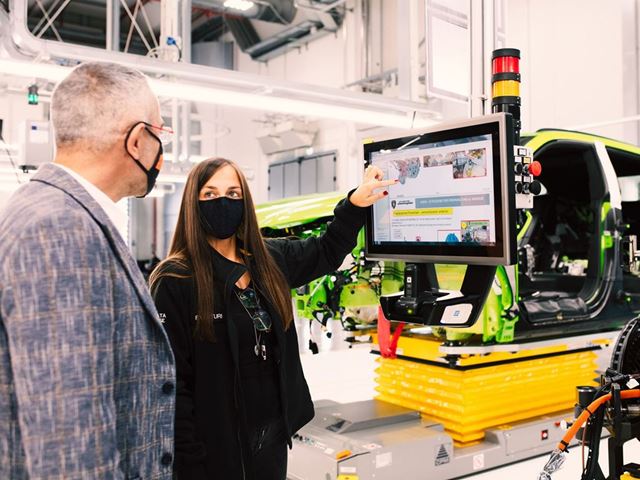 Lamborghini seeks to initiate virtuous processes in the way of doing business today, safeguarding social values and offering a better future to the generations of today and those of tomorrow, supporting the personal and professional growth of each individual. Support for diversity and inclusion also involves projects aimed at reducing the generation gap in the company, where more than 50% of the workforce is made up of Millennials and Generation Z. In addition to Up-Skilling and Re-Skilling activities, Lamborghini has launched a reverse mentoring project, aimed at fostering the transfer of transversal knowledge between junior employees and senior professionals, with a view to continuous improvement of skills and inclusion of newcomers. The company also signed a trade union agreement aimed at encouraging generational change.
The aim of this agreement was to make the most of the experience of employees nearing retirement, in synergy with current legislation, providing for the entry of the same number of young people with new skills and professional profiles.
We wanted to take as an example Antonio Aurucci, Head of Urus Assembly Line, together with his colleague Francesca Venturi, Urus Assembly Line Forewoman. Antonio says: "The mutual exchange between different generations is crucial also at work: traditional experience and skills on one side, digital innovation and energy on the other, oriented and aimed at continuous improvement, motivation, and a sense of belonging, through new paradigms of communication."
Francesca, following the words of her mentor, maintains that: "Reverse mentoring is a fundamental tool made available by the company for mutual personal and professional growth. The exchange regarding the experiences lived, the skills acquired and the different points of view of different generations is the basis of the mutual development."
Cultural diversity
Automobili Lamborghini's DNA is the result of many cultures that contribute to create iconic products. A place where multiple ethnic identities meet and exchange ideas, creating an environment rich in cultural diversity, which reflects the company's global vocation and international vision. Thanks to these different origins, the workplace becomes an example of integration and multiculturalism. At the headquarters in Sant'Agata Bolognese, thirty-five nationalities from four continents are represented.
We interviewed two operators on the Urus line, Olena Achysova and Henok Abrahan Sium. We asked them about the added value that different cultures and nationalities bring to a company like Lamborghini and what it means to them to be an integral part of it.
Olena explained: "My parents brought my brothers and me to Italy in 1999, when I was 14, to guarantee us a job and a future. I am half-Russian and half Ukrainian, in these countries Lamborghini is seen as a dream few people can aspire to, and when I told my relatives that I was going to start working there, they couldn't believe it. I had to send them the picture of the uniform with my name on it! I've been working at Lamborghini since 2016, and what I've noticed most is that the contribution that different cultures can bring is really an open-mindedness and humanity in the way of working and sharing time together."
Henok is a young man from Eritrea who was born with a passion for engines. He told us: "I've been with Lamborghini for a year and a half, and I still can't believe how incredibly lucky I am to be part of this wonderful company. Different cultures and nationalities make different people but there is no 'difference' here. It's great to see how your colleagues learn from your experiences but especially how helpful it is for me to learn from them. I wanted this job with all my heart and when I got it my relatives were in disbelief. The first thing they said to me was 'Henok, you are capable of achieving all your dreams, you just have to believe in them', and for me Lamborghini is my daily dream."
Disabilities
Lamborghini strives for a culture of inclusion also through cooperation with the service institutions for the inclusion of employees with disabilities or from disadvantaged backgrounds.
Particular attention is also dedicated to the methods of communication, such as the constant presence of a sign language interpreter at all company events and presentations.
SOURCE: Lamborghini