Isuzu Motors Limited (headquartered in Yokohama, Kanagawa, Japan; President and COO: Shinsuke Minami; hereinafter Isuzu) will showcase its battery electric vehicle (BEV) flat-floor route bus, "ERGA EV," at Japan Mobility Show 2023, which opens to the public on Saturday, October 28 (Official Opening Ceremony on Thursday, October 26). Embodying the future of public transportation, the fully flat-floor design significantly improves passenger safety and the BEV technology greatly reduces environmental impacts. Launch of the vehicle in Japan is planned for the end of FY2024 (ending March 31, 2025).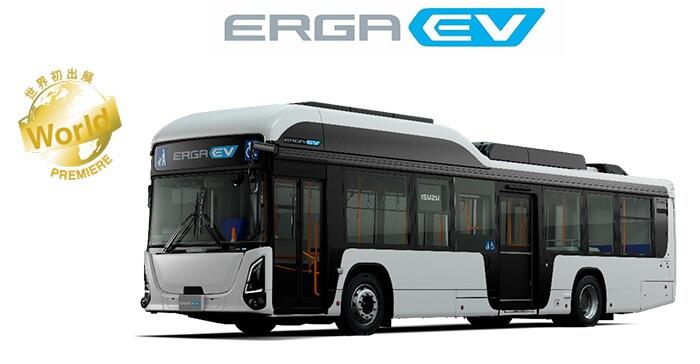 World's first "ERGA EV," a fully flat-floor BEV route bus, to be unveiled at Japan Mobilty Show 2023
ERGA EV is the first BEV flat-floor route bus developed by Isuzu to realize zero carbon emissions. The BEV's layout flexibility allows for the elimination of steps at the rear of the bus, creating a fully flat-floor interior, allowing passengers to easily get on and off the bus as a conventional non-step diesel-engine bus. All seats are accessible without steps, making movement within the bus completely barrier-free. In addition, smoother acceleration and deceleration, as well as lower vibration and noise levels, maximize passenger safety and comfort. With these improvements, Isuzu aims to eliminate on board accidents, such as falls, entirely.
The free movement of people and goods, anytime, anywhere. Safe, comfortable, human-centric, and convenient. The Isuzu Group looks to the future in creating an array of products and services that drive prosperity for people and society as a whole.
<Overview of Japan Mobility Show 2023>
Name:Japan Mobility Show 2023
Organizer:Japan Automobile Manufacturers Association
Dates:Saturday, October 28 to Sunday, November 5, 2023 (General Public Days)
*Press Days on Wednesday, October 25 and Thursday, October 26
Venue:Tokyo Big Sight
Booth No.:East Hall 1 EC01
<List of Isuzu and UD Trucks' exhibits>
No.
Exhibit
Comments
INNOVATION FOR EARTH
1
CN Solutions
2
GIGA FUEL CELL
Exhibit vehicle, world premiere, prototype
3
ELF EV
Exhibit vehicle
4
EVision
INNOVATION FOR SOCIETY
5
ELFmio
Exhibit vehicle, prototype
6
Quon GW 6×4
Exhibit vehicle
7
Quester GWE 6×4
Exhibit vehicle
8
Autonomous Driving Technologies
Exhibit vehicle; Fujin, prototype
9
Advanced Safety Technologies
INNOVATION FOR LIFE
10
ERGA EV
Exhibit vehicle, world premiere, prototype
11
EVision Cycle Concept
Solution display, world premiere, prototype
SOURCE: Isuzu