Isuzu Motors Limited (headquartered in Yokohama, Kanagawa, Japan; President and COO: Shinsuke Minami; hereinafter Isuzu) will unveil its "EVision Cycle Concept," a battery-swapping solution, at Japan Mobility Show 2023, which opens to the public on Saturday, October 28 (Official Opening Ceremony on Thursday, October 26).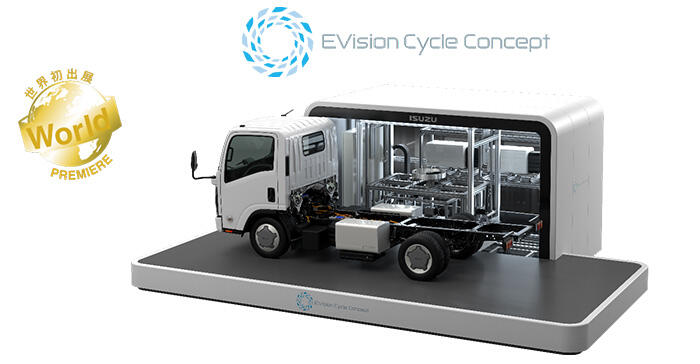 World premiere of "EVision Cycle Concept," a battery-swapping solution
The battery-swapping solution from Isuzu represents another path towards carbon neutrality (CN). It utilizes technological know-how acquired through participation in a commissioned project by Japan's Ministry of the Environment for battery-swappable EV trucks*. In battery electric vehicles (BEVs), where wait times (downtime) for charging is major drawback, this solution can quickly replace depleted batteries with charged ones, greatly reducing wait times and realizing more efficient operations.
In addition, it is possible to reduce both costs and the load on the electric power grid by charging the battery during off-peak periods when electricity rates are lower or when the power load at business sites is low. Furthermore, by separating the battery from the vehicle, the battery can be managed independently, allowing for battery sharing among trucks and opening the door to other applications such as energy storage from renewable sources.
The Isuzu Group is committed to creating transport solutions by leveraging battery-swapping capabilities, driving prosperity for people and the industry as a whole.
* "Sector Coupling Demonstration Project to Integrate the Development of EVs with Replaceable Batteries and the Utilization of Renewable Energy" (Starting in FY2021)
<Overview of Japan Mobility Show 2023>
Name:Japan Mobility Show 2023
Organizer:Japan Automobile Manufacturers Association
Dates:Saturday, October 28 to Sunday, November 5, 2023 (General Public Days)
*Press Days on Wednesday, October 25 and Thursday, October 26
Venue:Tokyo Big Sight
Booth No.:East Hall 1 EC01
<List of Isuzu and UD Trucks' exhibits>
No.
Exhibit
Comments
INNOVATION FOR EARTH
1
CN Solutions
2
GIGA FUEL CELL
Exhibit vehicle, world premiere, prototype
3
ELF EV
Exhibit vehicle
4
EVision
INNOVATION FOR SOCIETY
5
ELFmio
Exhibit vehicle, prototype
6
Quon GW 6×4
Exhibit vehicle
7
Quester GWE 6×4
Exhibit vehicle
8
Autonomous Driving Technologies
Exhibit vehicle; Fujin, prototype
9
Advanced Safety Technologies
INNOVATION FOR LIFE
10
ERGA EV
Exhibit vehicle, world premiere, prototype
11
EVision Cycle Concept
Solution display, world premiere, prototype
SOURCE: Isuzu