Toyota Motor Corporation (Toyota) unveiled a new Century model and will begin accepting orders today. The new model plans to be launched during 2023 while the Century sedan will still be available.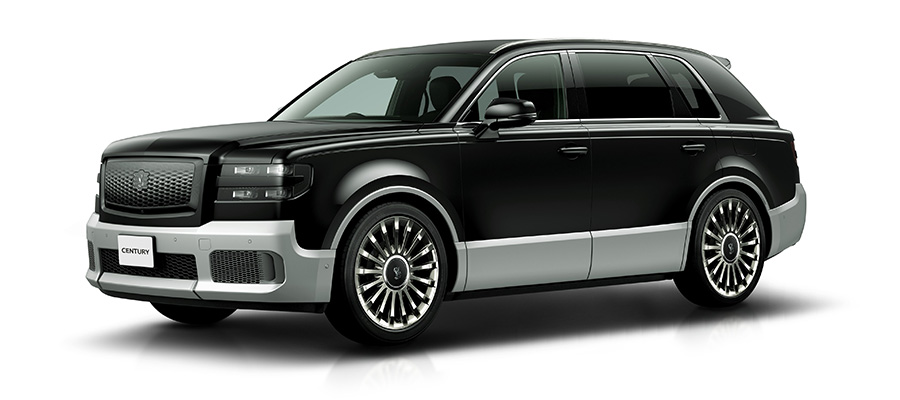 Century
(PHEV, E-Four Advanced) (Model with options shown)
The Century debuted in 1967 as Toyota's premium chauffeur-driven car. Until then, the Japanese chauffeur car market had been dominated by Western luxury brands. Aiming for a breakthrough, Toyota set out to create a completely new luxury Japanese vehicle that could stand its ground on the world stage. The first-generation Century was built with the best technology Japan had to offer at the time. It was based on the concept of a dignified design incorporating traditional Japanese aesthetics combined with a human-centered approach to achieve outstanding quietness and comfort. For more than five decades, the Century has served as Japan's chauffeur car of choice, embodying an unrivaled spirit of omotenashi, or hospitality, that ensures its important passengers reach their destinations in comfort.
Over that time, the development team has deliberated extensively on a future direction for the Century to ensure that customers experience a level of hospitality exceeding their expectations. In recent years, chauffeur-driven car needs have diversified as passengers seek to utilize their time on the road more effectively by getting rest inside the cabin or participating in online meetings. It was these circumstances that brought the team around to the idea of introducing a new model.
Under the concept of "The Chauffeur," the new model has evolved into a chauffeur car that will continue to meet customer expectations in the years to come while pursuing the essence and inheriting the dignity, quietness, and ride comfort befitting a Century.
The new model of the Century will be fully customizable on a global basis by listening to the needs of each individual customer. The aim is to deliver "freedom in motion―the ultimate freedom of movement" to even more people.
Details of the vehicle are as follows.
Vehicle Outline
1) The "stately grandeur" theme shows throughout in a dignified vehicle adorned with Japanese aesthetic elements.
Majestic, dignified body design with both horizontal and vertical form features
Characteristic chauffeur-driven car proportions, with a center of gravity at the rear, combined with an outline inspired by a loom shuttle motif, with kichomen*2 chamfering delineating generously sized, smooth-flowing door panels, to give expression to the unique Century worldview.
The exterior is immaculately finished down to the finest detail in the hands of master craftspeople, as illustrated by the exquisitely engraved phoenix emblem and the mirror finish, a luxurious shine resulting from meticulous polishing of painted surfaces.
Four set-back lamps for each of the headlights and taillights give the impression of a gaze full of dignity
2) Interior space designed with the concept of being human-centered to realize comfortable travel time
The new Century provides a comfortable interior space with space and functionality that can be used in a variety of situations.
Fully reclining rear seats with functions that allow rear-seat passengers to truly relax, including a refreshment function.
The finely honed auditory sensibilities and exemplary techniques of a musical instrument manufacturing master were incorporated into the development of the audio system. The result is a comfortable listening space that envelops passengers with the feeling of a live performance.
Rear doors that open to a wide 75-degree angle and a sweeping cabin floor provide excellent ease of entry and exit. In addition, convenient automatic retractable power steps and easy-to-grab C-pillar grips also support natural and elegant entry and exit by rear-seat passengers.
The cockpit is equipped with functions and features that support professional drivers and enhance ease of use. It is a space that also allows owners to focus on their driving when they are at the wheel themselves.
3) A powertrain and driving control system realizing a performance for chauffeur or plain driving that exceeds expectations
The newly developed 3.5-liter V6 plug-in hybrid system achieves both a powerful and exhilarating drive while retaining the quiet driving suitable for a Century.
The new plug-in hybrid system is designed to function as a BEV for everyday use and as an HEV for long-distance travel, making it the ideal powertrain for a chauffeur-driven vehicle.
The motor and engine provide powerful and exhilarating acceleration performance, ensuring that the car can be driven not only as a chauffeur car, but also as a driver's car for personal driving pleasure.
The four-wheel steering system "Dynamic Rear Steering" provides easy handling at low speeds and seamless, natural handling at medium to high speeds.
A Rear Comfort mode that supports the driver's control of the vehicle to ensure a comfortable ride for passengers in the rear is available for the first time. In addition, the Rear Comfort mode assists braking control to suppress jolts when the vehicle comes to a halt.
4) Body structure and suspension supporting driving performance befitting a chauffeur-driven car
Newly developed "luggage compartment separate structure"
The body's torsional rigidity and ride comfort have been greatly improved. Noise-reducing clear laminated glass is used on the cabin side of the cargo space separator to properly separate the cabin from the cargo area and achieve the privacy and astounding quietness associated with chauffeur-driven vehicles.
*1 A chauffeur-driven car, chauffeur vehicle, or chauffeur car is a high-end passenger vehicle used primarily for chauffeur services, whereby a dedicated driver transports the owner of the vehicle or other passengers who sit in the rear.
*2 Kichomen is a chamfering method originally used on posts of Heian-period (794-1185) room partitions.
SOURCE: Toyota