Toyota Research Institute – Advanced Development, Inc. (TRI-AD) announced today that it will create Woven Capital, L.P. (Woven Capital), an $800 Million global growth-stage investment fund, to enhance the ability to achieve its vision of "Mobility to Love, Safety to Live." On July 28, 2020, TRI-AD announced that it will expand and strengthen its operations by forming a new holding company called Woven Planet Holdings, Inc. (Woven Planet), which will begin operations in January 2021.
Woven Capital will be part of the new Woven Planet Holdings Group, and it will support the group by investing in growth-stage companies that are developing innovative technologies and business models in areas such as autonomous mobility, automation, artificial intelligence, machine learning, data and analytics, connectivity, and smart cities. In addition to sourcing deals from Toyota AI Ventures, Toyota's early-stage venture capital fund, Woven Capital will also invest in other venture capital funds in order to broaden and accelerate its global coverage.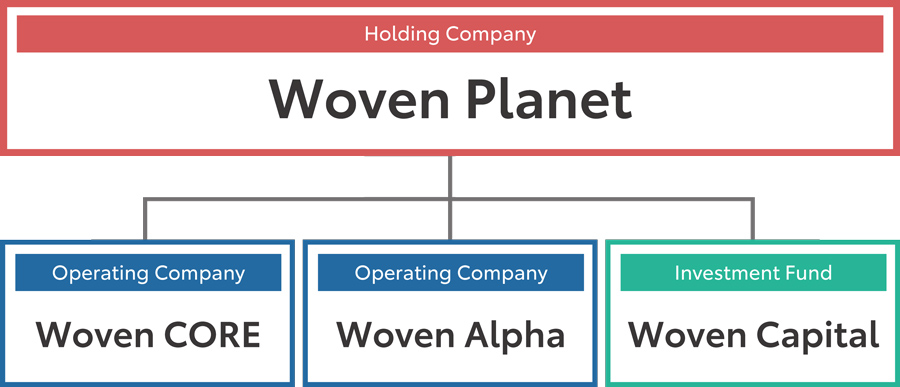 "With diverse projects such as Arene*1, the Automated Mapping Platform*2, and Woven City, the Woven Planet Holdings Group has set ambitious goals for itself, and we will need a variety of partners and technologies to achieve those goals," said James Kuffner, CEO of TRI-AD. "Woven Capital's investments will enable us to weave together a global portfolio of partners and technologies that will deliver long-term value to our customers, stakeholders, and society. Woven Capital will also enable us to make growth-stage investments in companies in the Toyota AI Ventures portfolio as they look to raise additional capital."
Woven Capital will begin operations in January 2021. In the meantime, we are looking to recruit a diverse team of passionate investment professionals and support staff who are committed to changing the world. We believe that diverse teams make better decisions, and we are committed to advancing a more diverse, equitable, and inclusive venture capital ecosystem, so diversity will be one of the most important driving philosophies in our hiring decisions. We encourage people from historically under-represented groups to apply. Individuals who are interested in joining the Woven Capital team should apply through TRI-AD's website at https://www.tri-ad.global/work-with-us/.
SOURCE: Toyota